Starting this week, I'm receiving this notification for both Twitter and TwitterV2 connectors:
"Please Login to SeoTools to use Oauth connectors.
Failed to generate OauthRequestUri for Twitter."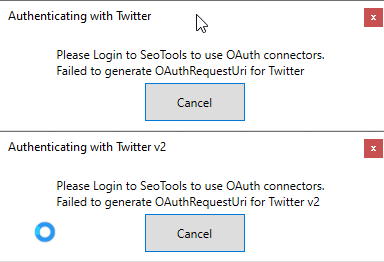 Of note:
• SeoTools version 9.7.4.
• All other social media connectors continue to work perfectly.
• The Twitter account in question is fully functional.
• Most importantly, up until around June 10th, 2023, both Twitter connectors were also fully functional and generating the desired results.
I've preemptively reinstalled SeoTools just to double check it's perhaps foremost not an issue on my end.