Hi to all my friends.
Today i need to check all price of a list of products from a website of one my competitor.
The problem is: website is in ASP, with search custom module, i mean i cant found the URL of searching... because when i search some products code, website redirect in
https://www.styl-moto.com/search/
The word for example i want search is: SMU0525
So with webanalyzer i see the parameter like this: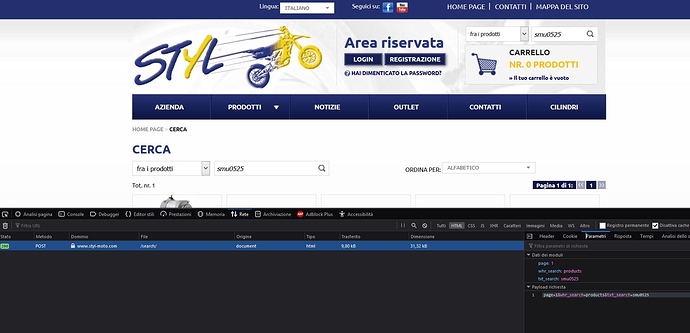 I do some experiment like This but didn work, someone can help me? very thanks i apprecciate.
=Dump(XPathOnUrl("https://www.styl-moto.com/search/";"//*[class=""prezzo_speciale""]";;HttpSettings(VERO;;;;"POST";"application/x-www-form-urlencoded";;{"page"\"1"."whr_search"\"products"."txt_search"\"SMU0525"});"text"))