Hi,
First of all, I wanted to warmly thank you Seo For Excel creator, I use it since a long time and it works perfect.
Configuration : Win 10 / Excel For Office MSO 64 bits / SeoTools 8.0.90
I have a very small but very annoying issue with AdwordsKeywordSearchVolume (I have a Basic Google Ads API access).
When using this formula (French Excel with French Google Ads queries) :
=AdwordsKeywordSearchVolumes(Feuil1!A1;"2250";"1002";VRAI;"SearchVolume";VRAI)
and repeat it on many cells within my columns, sometimes I got this error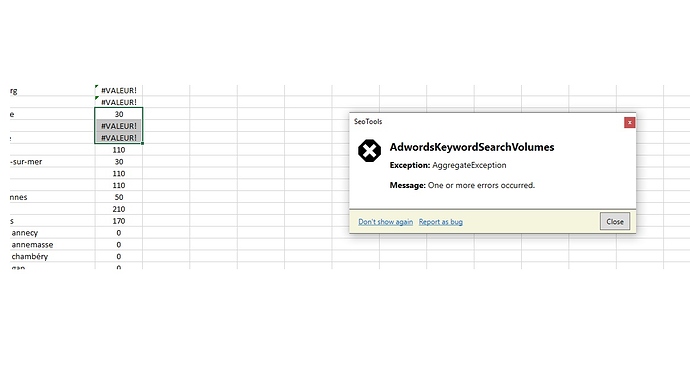 Then, if I put Excel to recalculate the formula, sometimes it works, sometimes not, and then got again this same error.
If someone could help, that would really awesome.
Regards,